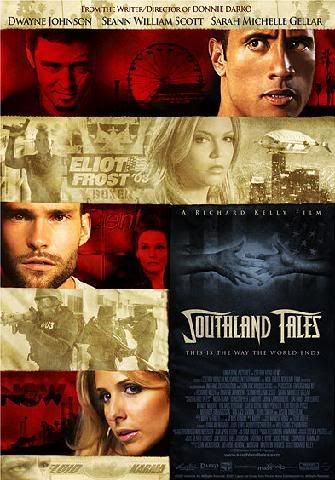 I'm not a big
Donnie Darko
geek, but I will defend the film when ever people criticize it. Well, I'll defend the Director's Cut at least. The original was a romance with sci-fi touches whereas the Director's Cut is full-blown sci-fi masterpiece. So when I heard Richard Kelly's next film was going to be a sprawling epic about the end of the world set in LA I was immediately excited. Then the film really never came out and it had a bad screening at Cannes. I heard that it was a bit messy and long, but I knew that Kelly could get it right. Well finally after two years of post-production hell Southland Tales is finally coming out November 9th. Just watch the trailer yourself, words can't really describe...
Wow. I'm sold. If I believe what I'm seeing I cannot wait. Filmmakers need to take more risks and it looks like Richard Kelly is taking a bold step. I'd rather take a messy film that tries something new than some well-scripted movie that retreads old ground.
...Plus the tagline is just really cool.
"
This is the way the world ends. Not with a whimper, but with a bang.
"
Links:
Southland Tales on IMDB
Interview with Richard Kelly in the LA Times