I've always wanted to do an Mp3 of the week, but I haven't hustled myself enough to do it. I'm going to try now and we'll see how it goes.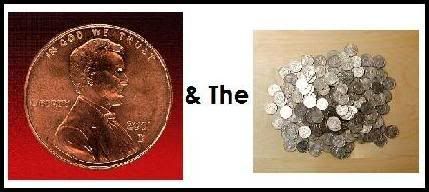 Yeah yeah it's a lame picture, but come on!
What better way to kick this off than with a group whose only song ever recorded is the one I have here. Released on Numero Group's
Eccentric Soul: The Prix Label
, "You And Me" is a "is a random rehearsal by a group no one can remember (Dante Carfagna and Rob Sevier)." What a random rehearsal! This song is quite the classic fifties-sounding pop standard. But there is something much more enthralling and exciting about it. Maybe it's the fact that it's the only song they ever recorded (to our knowledge) or maybe it's the humorously sweet name they picked or maybe it's just because the song is so damn good. Whatever the reason this song is pure soul and it'll drive itself straight into your heart.
Mp3:
Penny & The Quarters-"You And Me"
Links:
Numero Group
The Linear Notes from Eccentric Soul: The Prix Label