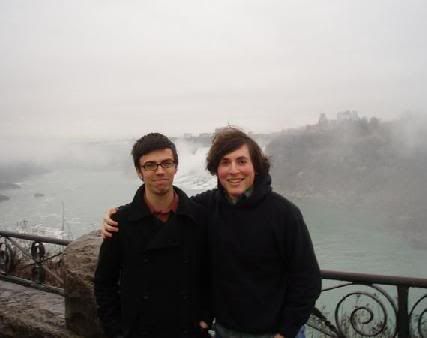 I saw A Drum and an Open Window play at
Muddy Waters Cafe
about a month ago. I had no idea who they were or what kind of music they played, but I fell in love with them. They are two guys, Yuri and Whisper, from Emerson College in Boston and they play guitar, banjo, mandolin, xylophone, and melodica. After the show I immediately picked up one of their albums,
There Will Be Fields For Us
. Listening to this over and over again gets more rewarding each time. From seeing shitty shows in "The Mount Eerie Show Song" to writing their moms postcards in "The Mom Song" to summer time nights in "Summer Camp Pop Song" they truly capture the full spectrum of life on the road. Being a musician myself I felt truly inspired by their conviction in just doing what they love, most beautifully captured in their song "Make Things" where they proclaim, "If I want to sing I just grab this guitar and do it do it do it/ if I want to tour I just get in a car (or van) and do it fucking do it". Any artist will want to rush out and share their art with the world after hearing these guys. The title track features some nifty melodica work and both guys singing conflicting but harmonizing parts near the end, which I am particularly a big fan of when it is done in songs. A Drum and an Open Window is a band that will inspire you to "make things" and get your toes tapping and singing along quite easily. See them live and then get
There Will Be Fields For Us
as soon as you can.
Mp3:
Make Things
Myspace
Their website
Oh! Map Records