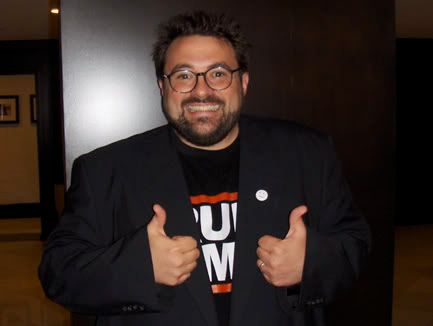 A friend pointed this out to me and I feel like I should share it because it was one of the greatest moments at Comic-Con this year. I had a lot of trouble that weekend which you can get an idea by reading this
Here: Evan at Cacrew
. Due to the trouble the only panel my friends and I were able to see on Friday was Kevin Smith. I have mixed feelings about him as a filmmaker. I love
Dogma
,
Clerks
and
Mall Rats
, and scenes from his other films, but many dramatic moments fall flat in all of them (the exception is
Clerks 2
). However as the king of all nerds, I think Kevin Smith is one of the smartest wittiest men in Hollywood. The panel on Friday consisted of him getting asked questions from dozens of nerds about various nerdy things and a small promotion for a pilot he directed for the CW (It's called
Reaper
and it was funny, but I still won't watch the CW). This clip here is one of the highlights where a guy (and we know these kind of guys who try to act like a pompous dick during panels) asks if Kevin Smith was going to do anything original and stop rehashing his old characters. And This is why I like Kevin Smith; he was able to answer the question honestly, but he injected his own form of fiery wit into it. It really shows you that to survive in the "biz" you need to be quick as hell. And who doesn't love a good "Mom" joke either. Enjoy!
Kevin Smith's myspace
Link to the actual You Tube page