I always enjoy the shows at
Muddy Waters
down on Haley Street, but yesterday was special. I saw The Lonesome Architects in February and I was blown away. Finally after much delay they came back to Santa Barbara. Due to some pulled wisdom teeth, Thousand Oaks' own Hell-Kite could not make it to the show so several random audience members (including
me
) played a song or two to warm things up for the main bands.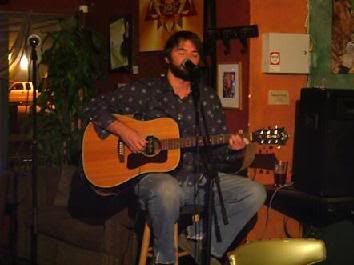 The Mutineers played first and brought everyone into their enjoyable form of folk-rock. They played a song every young twenty something who's looking for a job and likes to get wasted on coffee can relate too.
She
definitely could relate. The end of the set concluded with a wonderful ode to country music and a great tribute to death metal (On two acoustic guitars and a tambourine mind you).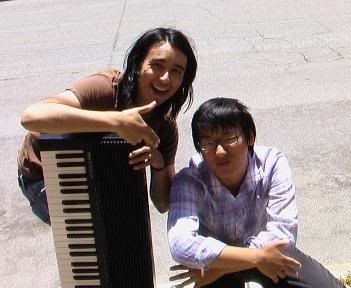 Next up was The Lonesome Architects. This time around they had an expanded set with the addition of a keyboard. Comprised of Josh and Martin, they trade vocals, guitars, and all the other random instruments they use (melodica, harmonica, and keyboard). The opened with "Echolocation," one of my personal favorites and played a bunch of songs off their new EP (My review is
here
). They put new live spins on "Julie Vignon" and a really old song that I heard back in February, "Anna's Hands." Overall their set was as great if not better than the first time I saw them (I also helped them move a table. How often can you say you've done that with Bright Eyes?). More time on the road has made them better musicians and the new keyboard works so well with the songs. This was the last night of their tour for now, but if they come around to your area do not miss them.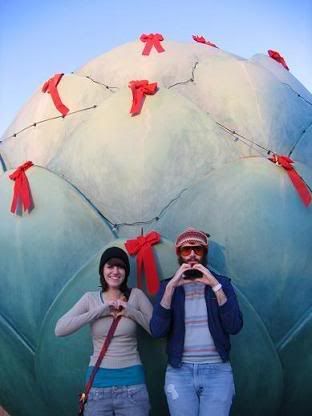 Next up was the always enchanting Watercolor Paintings comprised of Rebecca Redman and her older brother (king of all beards) Josh Hoshwa Redman. I have seen them play about two dozen times and in various incarnations (the drum phase, the Rian James phase, etc.), but I really dig what they are doing at this moment. The set nowadays always involves her harp, a baritone ukulele, a soprano ukulele, and a classical guitar. She played such classics as "Happy Ships," "Gold," "Hello Out There," "Smile," and "Tender Loving Care". She also played a song called "Sailboat" that she has yet to make a releasable recording of (It's really sweet). Watercolor Paintings is touring soon and if you want to see the sweetest vegan punks play, you should definitely check them out. I'll post the tentative dates and locations soon.
Muddy Waters is a great little coffee shop that is welcoming to all kinds of wonderful local and touring bands. Last night was another fun and enlightening time for "little music made by people with big hearts."
Mp3s:
The Mutineers-"Coffee Mug"
The Lonesome Architects-"Echolocation"
Watercolor Paintings-"Happy Ships"
Links:
Muddy Waters
The Mutineers' Myspace
The Lonesome Architects' Myspace
Watercolor Paintings' Myspace