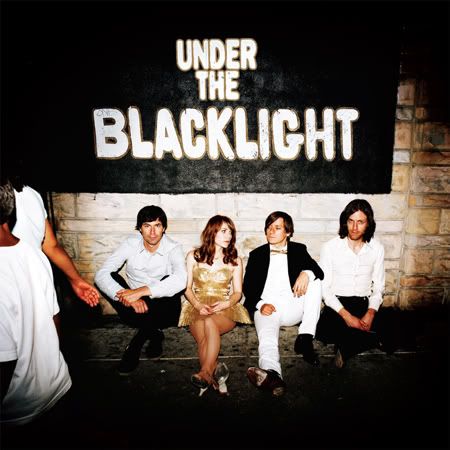 I was introduced to Rilo Kiley by my sister on the way back from Vegas a few years ago and I immediately fell in love with them, which is why I am in quite a state at the moment and no more than right now am I so compelled to write a review for Rilo Kiley's
Under The Blacklight
. Most reviews have dammed it to hell and others have said it is fun. Saying it's a fun record is a meek way of saying you like it but are too ashamed to admit it.
Under The Blacklight
is a damn fine record. Not the best in the Rilo Kiley catalogue, but none of their records have been perfect. Jenny, Blake, & crew have never been good at releasing great records; what they do release is great songs and this album is chock full of them. I'm obsessed with "Silver Lining" at the moment. It starts out with a neat intricate guitar line, rockin' drum beat, handclaps, and Jenny Lewis at her most soulful. Every time I walk to class I want to belt the chorus out and I get chills when she sings, "I never felt so wicked/ as when I willed our love to die." It morphs into a gospel number by the end and Jenny Lewis preaches a message of being happy with oneself, "I'm your silver lining/ hooray hooray/ but now I'm gold!" Amen sister. There has been a lot of conversation on the nature of "The Moneymaker" and I'll only say this: lots of people were pissed off at "Like A Rolling Stone" but they still sang along anyway. "Breakin' Up" is another favorite of mine that uses possibly one of the most tender keyboard riffs in years before morphing into a 70s disco number that brings up images of roller-skating rinks. It's totally groovy. The song's genius is its ability to address the lyrical content in a thoughtful way while at the same time pointing out its absurdity. No more is this sentiment echoed than in the first line, "it's not as if New York City/ burnt down to the ground." While The Elected's 2006 release
Sun, Sun, Sun
is one of my favorite albums of all time I was never a big fan of Blake's songs on any Rilo Kiley release (the exception being "Ripchord" on
More Adventurous
). Yet, "Dreamworld" is as infectious as the title suggests and the driving bass, thumping drums, and whispery vocals from Blake culminate into a hallucinatory journey contained in a 4:45 song. "Give A Little Love" is reminiscent of 80s ballads and its Nintendo-esque synth line fits it well. It's got a great little beat and its insistent chorus is something to be marveled at. I bet you all it'll be sampled in a rap song by the end of the year (Kanye West I'm looking at you). It is a nice poignant way to close the album and not as grandiose as "Spectacular Views" or as prophetic as "It Just is." And this can be said about the entire album. It has an intricate simplicity and subtlety in the face of the all shenanigans being raised about it being overproduced and lyrically dreadful. Give me a fucking break; listen to every Rilo Kiley album, the production quality is about the same on all of them. This album is so shocking to some because of the 180 degree change in musical and lyrical style. But really, the attitude is still the same since Jenny was belting out "Plan Crash in C" off of
Take Offs & Landings
. From such sweeping narratives off of The
Executions of All Things
and
More Adventurous
this new album is so minimalist it probably hurts at first. Imagine trying to condense a Paul Thomas Anderson film into the structure of Jim Jarmusch. With that said, I have a feeling that Jenny and Blake wanted to focus more on the feeling of things rather than tell concrete stories. This is can even be seen in the difference of the album booklet between
Under The Blacklight
and
More Adventurous
. The former contains a few simple mood shots showing the "seedier" side of LA and provides another piece of what the album is about. The latter contains dozens of shots of the bands, providing a story to see who the band is, and what kinds of the stories they are going to tell. Now I guess every argument about the band has come down to this, which approach is better? Most due to their "closeness" with Rilo Kiley's previous material have rejected this new album completely (Pitchfork, as predictable as always). It makes me sad, but again to use a Dylan comparison, many people didn't understand when he went electric, or country, or even Christian, but in time people began to see the bigger picture. In time we will see where
Under The Blacklight
fits, but for now I'm going to dance and sing along quite happily.
Mp3:
Rilo Kiley-"Breakin' Up"
Link:
Rilo Kiley main site
Their Myspace
Other Reviews:
My Little Ghost Friend
Pitchfork
Retro Lowfi
Rolling Stone
Uncut review and interview with Jenny Lewis